6 Days 726 Miles
The Montana & Wyoming Road Trip You've Been Dreaming Of
An Unforgettable Rocky Mountain Itinerary
Looking for more time with nature, moments of spectacular grandeur, and some of the most incredible scenery America has to offer? Montana and Wyoming are ready to deliver all of that and then some. Step away from virtual calls and the constant ding of incoming email — and step into one of the world's most beautiful places. This is a trip you'll never forget. There's a lot to see, so we've mapped out the perfect itinerary to hit three National Parks, each offering distinct and unique landscapes, wildlife and experiences. We'll start out with Glacier National Park and neighboring Whitefish, Montana. We then head down to Yellowstone National Park with visits to Gardiner and West Yellowstone, Montana. To close out this road trip of a lifetime, we'll end with Grand Teton National Park.
Wintertime in Montana is a whole different experience, so this trip is best taken between June and September. Our ideal visit is right after Labor Day — the crowds diminish with school back in session, but the weather is still pleasant for hiking. The bison and elk ruts this time of year make September as good as it gets. Traveling with the family in the summer? The trip is still phenomenal, but it might require a little extra planning and flexibility.
Buckle up, we're heading to Montana!
Day 1 & 2 – Glacier National Park
The beauty of Glacier National Park will leave you speechless. Glacier-fed turquoise lakes, ice-capped mountain peaks, roaring waterfalls, and northern wildlife are all pieces of this magical place — but it's the fresh mountain air that stays with you. Breathe it in and enjoy every second.
Fly into Glacier Park International Airport in Kalispell, and rent your car from there. An SUV is great, especially if you're traveling with a family, but a standard car makes parking a breeze and should also get you up and down the mountains just fine.
Glacier National Park sometimes feels like a combination of several epic national parks. Called the "crown of the continent," it's the type of experience that will stay with you forever. Ice rivers slowly carved this section of the Canadian Rockies, from mossy old-growth forests to glistening alpine meadows. With glaciers, lakes, and rivers in sparkling shades of blue surrounded by rugged mountains in every direction and over 700 miles of trails — it's a hiker's paradise.
Not a hiker? Not to worry. Take a scenic drive up Going-to-the-Sun Road. This spectacular 50-mile road spans the width of Glacier National Park, giving you a view of the park's interior. Endless picturesque pullouts and viewpoints sit along the road, crossing the Continental Divide at Logan Pass. You'll see large, crystal-clear glacial lakes, gorgeous forests, and alpine meadows — and on a good day even spot mountain goats, moose, and bears.
You need at least two days to really experience all Glacier has to offer. Take one day to explore Going-to-the-Sun Road from end to end, stopping to hike, grab lunch, and enjoy the beauty of this magnificent park.
On the second day, check out Two Medicine—take a boat trip around the lake with Glacier Park Boat Company or hit the trails on one of the area's 14 hikes. When you're done exploring this gorgeous section, head up to Many Glacier or the Waterton-Glacier International Peace Park, a UNESCO World Heritage Site. In 1932, Glacier National Park partnered with Waterton Lakes National Park in Alberta, Canada, to create the world's first International Peace Park. (Bring your passport if you plan to cross into the Canadian side.)
Glacier National Park will take your breath away with stunning views and out-of-this-world vistas. It's the ultimate first stop on an epic exploration of Montana and Wyoming.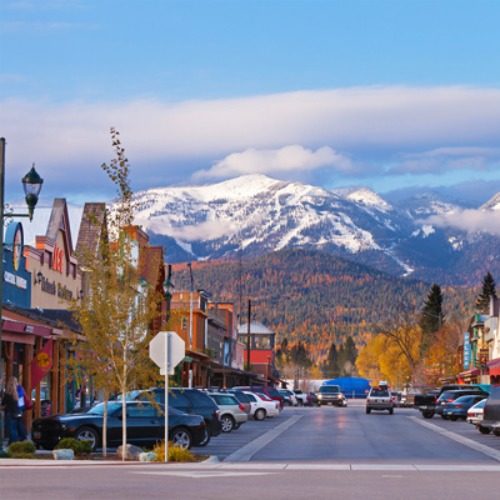 Where to Stay Near Glacier National Park
The quintessential small mountain town, Whitefish offers restaurants, breweries, coffee shops, live music, shopping and nightlife year-round. If you don't want to fly in, Amtrak's daily Whitefish stop brings you right into the heart of the action of this perfect Glacier home base.
Among ample lodging in Whitefish, the Pine Lodge on Whitefish River has cozy rooms and tons of complimentary amenities with your stay.
Need a shuttle to downtown Whitefish? It's included. Want to kayak the Whitefish River? That's also included. Need to fill up with breakfast before you head into the park? Included. Looking to beat your travel partner at pool or shuffleboard? You guessed it — included. You get the point; there's plenty to do at the Pine Lodge, and it all comes with your stay!
However, please be aware that there is a daily amenity fee required for certain activities during the summer months.
Day 3 – Gardiner, Montana
Now let's head to Yellowstone! There's some serious drive time between Glacier and Yellowstone, but plenty of amazing Montana locations to stop at along the way. Here are some of our favorite places to grab lunch, hit the trails, or just take in the scenery of Big Sky country.
Butte, Montana
Originally a gold and silver mining camp in the 1800s, Butte became the "richest hill on earth" when its copper deposits were discovered at the turn of the century. Butte is a charming city nestled in the Rocky Mountains of Southwest Montana, with natural hot springs, boating, fishing, trolley tours, and more. Don't miss the Our Lady of the Rockies statue, standing 90 feet tall on the ridge overlooking Butte.
Bozeman, Montana
Whether you're looking for dramatic mountains for hiking, rock climbing, and fly-fishing or a flourishing arts community featuring festivals, art galleries, live music, and farmers markets, Bozeman shines as America's "most livable place." Enjoy rooftop dining in what many call a foodie paradise, check out one of Bozeman's many museums, or take a river rafting tour — there's something for everyone in Bozeman.
Lewis & Clark Caverns
Montana's first and best-known state park is Lewis & Clark Caverns. These unbelievable limestone caverns are filled with stalactites, helictites, and stalagmites; electrically lighted; and naturally air-conditioned. Informative and fun guided tours are available May through September. This is a super fascinating spot to view incredible underground scenery and cool off on a hot day.
Where to Stay Near Yellowstone National Park
Yellowstone National Park is huge with multiple areas to explore (better), which is why this trip is best made over a few days in different locations. Let's start with the wildlife (bison, wolves, and bears — oh my!) that make Gardiner a great spot to hunker down for the night before hitting the road early in the morning. Gardiner sits at the original entrance to Yellowstone, nestled between the Absaroka–Beartooth Wilderness and Gallatin Range. With no big-box stores and lots of local merchants, this full-service town has an Old West feel. Gardiner offers the easiest access to Lamar Valley (wildlife central) in Yellowstone, so you'll want to rise early and catch the park's most famous inhabitants.
There are a number of lodging options in Gardiner, but one of our favorite spots is The Ridgeline Hotel® at Yellowstone. Ideally located just minutes from the North Entrance (and the Roosevelt Arch), this hotel sits directly on the Yellowstone River.
It has an on-site restaurant, heated indoor pool and hot tub, casino/bar area, and Wi-Fi (to update your social media with photos from the trip). Super comfortable accommodations and instant access to the park equals a win for us!
Day 4 – Yellowstone National Park
Your first day starts with ALL the wildlife in Lamar Valley. The secret to seeing the most wildlife is driving in at dawn. Grab your continental breakfast to go from the hotel and jump in the car — don't forget your binoculars.
Before heading through Yellowstone's North Entrance, take a drive (or walk) through the Roosevelt Arch for a FOMO-inducing photo by the park sign. Yellowstone is America's first National Park and the North Entrance is the original entrance, so take a minute to appreciate all the history that took place here.
The drive from the North Entrance into Lamar Valley is beautiful, and it usually doesn't take long to encounter wildlife of some sort. Bison seem to be everywhere up here, and it's a true thrill to get caught in a bison jam (which we'd take over a traffic jam any day)!
A fan favorite in Lamar Valley is Yellowstone's wolf packs, and the best times to glimpse these beautiful predators is dawn and dusk. Keep your eyes peeled — it's a rare and special moment to get to see wolves in the valley.
After taking Lamar in for the morning, head back toward the entrance and over to Mammoth. This section of the park has NPS Visitor Centers, a restaurant, an awesome gift shop, and more, so it's a great place to stop for lunch and souvenirs before checking out Mammoth Hot Springs.
Take the afternoon to check out Mammoth, Norris Geyser Basin, and Artists Paintpots as you travel toward the West Yellowstone Entrance to the park. Want a full breakdown of our favorite locations? Click here.
When you've explored to your heart's extent, exit into West Yellowstone, Montana… this is where we'll be spending night two of our Yellowstone adventure.
Where to Stay Near Yellowstone National Park
West Yellowstone is a gateway community filled with fun things to do — tons of restaurants, a ropes and ziplining course, and our favorite, Grizzly & Wolf Discovery Center. The Discovery Center offers visitors an opportunity to observe, understand, and appreciate grizzly bears and gray wolves that are unable to survive in the wild. A fascinating, up-close look at some of Montana's most incredible animals, it's definitely worth a stop.
West Yellowstone has tons of lodging options for every type of traveler. Two of our favorites are the Explorer Cabins at Yellowstone and Yellowstone Park Hotel. The Explorer Cabins combine the charm of cabin lodging (CABINEERING™) with the joys of generational and dog-friendly travel. They're ideal for family and friends traveling together or a romantic getaway. Each private cabin boasts stylish décor, fine linens, a flat-screen TV, and a kitchenette for whipping up your favorite meals. Wi-Fi is available in the cabins and throughout the property. Trust us, s'mores by the campfire at the Explorer Cabins will be a favorite road trip moment.
Yellowstone Park Hotel features well-appointed rooms, free Wi-Fi, a heated indoor swimming pool, and a hot tub, for the perfect opportunity to relax after a long day of exploring. Other rooms may include fireplaces and whirlpool tubs.
Day 5 – Yellowstone National Park
Our stars of the day are the geysers, springs, and thermal features Yellowstone is famous for. The West Yellowstone entrance can get backed up in the summer, so plan to hit the road early again. Sunrise in this section of the park is also spectacular, and you won't be sorry you got up before the sun as you watch it peek over the mountains and fill the valleys below with golden light.
Today is all about Yellowstone's lower loop. The Grand Canyon of Yellowstone, Old Faithful, and Grand Prismatic are some of the scenic spots you'll be seeing, and we promise you… every stop is even more spectacular than the last.
Try to hit Grand Prismatic when the sun is high in the sky for the best view of the colors, and take the Fairy Falls trail to see it from above. It's a relatively easy hike and the payoff after the short climb is worth every breath on the way up. Old Faithful goes off like clockwork and park rangers pinpoint when it's expected, so you can time your arrival at Old Faithful Inn perfectly to grab lunch and then watch an eruption. The Upper Geyser Basin here is home to over 150 hydrothermal wonders you won't want to miss exploring.
As you go along, one thing you'll notice about Yellowstone is the phenomenal variety of destinations in the park. Every location is a different world and there's so much to discover in this magical place.
At the end of the day, head back into West Yellowstone for one more night before heading down to Grand Teton first thing in the morning.
Day 6 – Grand Teton National Park
Dramatic scenery, stunning snow-covered peaks, and rivers meandering through unbelievable vistas — welcome to Grand Teton National Park. Coming from West Yellowstone, you'll want to leave early (we know, this trip is full of early wake-up calls), and head south to the Yellowstone South Entrance. These two majestic parks are only 31 miles apart, so it's only about half an hour from the South Entrance of Yellowstone to Grand Teton National Park. Coming this way, there's actually no formal entrance station into Grand Teton.
On your way in, we highly recommend stopping at the Jackson Lake Overlook, an idyllic welcome into the park. Beautiful lake views and stunning rocky peaks offer a great taste of what's to come in Grand Teton. As you explore, you'll find endless spots to take in the views. Oxbow Bend is stunning every day, but catch it when the mountains and sky reflect off the river and you'll get the photo of a lifetime.
Jenny Lake is a must-see location, with incredible hiking, water rentals, a store and visitor center, and more. We also recommend renting a canoe to experience this beautiful area from the vantage point of the water.
Take the day to discover this stunning park before heading into Jackson, Wyoming, for your last overnight stay.
On your second day in Grand Teton, explore the park further and hit some of the many photo-worthy scenic spots — there's no shortage. Mormon Row and Moulton Barn on Antelope Flats is the most photographed barn in Wyoming and quite possibly the world. This place feels a little bit like stepping into a movie, so keep an eye out for Tristan from Legends of the Fall.
We're willing to bet this week-long Montana and Wyoming road trip is one you'll never forget. Drop your rental car in Jackson and fly out of the Jackson Hole airport to start your trip home (and start planning your next epic adventure).